The 2021 Indycar championship has generated headlines for several reasons: the unpredictability, the youth movement, and the strong start from former F1 ace Romain Grosjean. The Frenchman left F1 last year for pastures new in America. So far, Grosjean is excelling in his rookie Indycar season. A pole position at the Indianapolis GP converted into a podium finish for the Dayle Coyne Racing driver. With Grosjean's early promise strengthening the Indycar/F1 links, it's time to see some other drivers that excelled on either side of the Atlantic.
Juan Pablo Montoya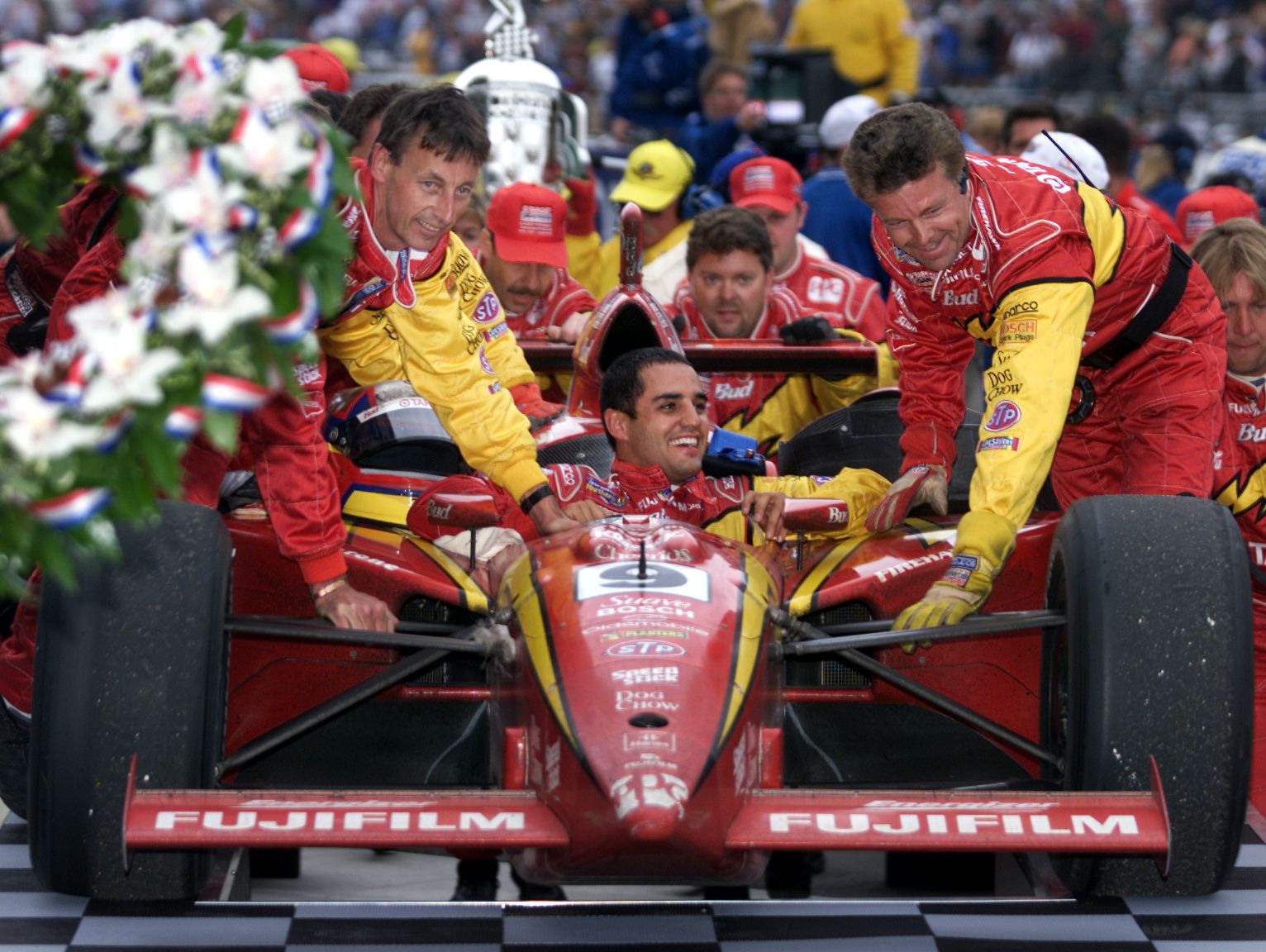 There is only one living man that has triumphed at the Monaco GP and the Indianapolis 500. That man is Juan Pablo Montoya. The fiery Colombian burst onto the scene for Chip Ganassi Racing in the CART Championship. Montoya became famous for his lack of respect for veterans and his fearless driving style.
Montoya rocked up for his maiden '500 in 2000, leading the CART Championship. Plenty of experts suggested that Montoya should respect the Brickyard and take the points. But, instead, Montoya rampaged around Indianapolis as he seared the tarmac to win on his first attempt. By that point, Montoya was firmly on Frank Williams' radar.
The legendary team boss booted Jenson Button out for 2001 and signed Montoya. In just his second F1 race, Montoya muscled past Michael Schumacher at Interlagos. As Montoya left Schumacher on the grass, he surged into a dominant lead. That brief moment offered a glimpse of Montoya's phenomenal racing talent. The controversial firecracker would win multiple races for Williams and McLaren in his F1 career.
After a falling out with Ron Dennis, Montoya raced in the NASCAR series before returning to his roots in Indycar in 2014. Montoya still displayed tremendous speed despite his seniority as he took a breathless win at the 2014 Indianapolis 500. Often controversial, always entertaining, Montoya shook up the Indycar and F1 paddocks with his unique brash style.
Jacques Villeneuve
Speaking of controversy, Jacques Villeneuve is another driver that definitely shook things up in F1 and Indycar. The son of Gilles raced in Italian and Japanese F3 before jumping into the CART Championship in 1994. Villeneuve instantly came to the fore as an aggressive, often reckless driver.
The French-Canadian demonstrated plenty of speed, with a lot of incidents. His Indianapolis 500 win perfectly encapsulated the speed and chaos of Villeneuve. The young driver got penalized two laps for overtaking the pace car. After falling two laps down, Villeneuve charged through the field to come back and win the race. His pace was unstoppable—that win catalyzed Villeneuve to dominate the second half of the season and win the championship.
After conquering North America, Villeneuve turned his eye on the world. He and his family had unfinished business with F1; Frank Williams signed Villeneuve to partner Damon Hill in 1996. The two drivers fought in an exclusive battle as the Williams Renault package was the dominant car. Ultimately, Hill's experience would pip Villeneuve to the winning post.
However, Williams dispensed with Hill for 1997, and Villeneuve became the de-facto number one. He waged a bitter battle with title rival Michael Schumacher that came to a head on that dramatic day in Jerez. Villeneuve and Schumacher came to blows, but unlike Adelaide in 1994, this time, Schumacher couldn't continue, and Villeneuve limped over the line to win the world championship. 1997 was the high point in Villeneuve's dramatic career.
A move to Tyrell, which became BAR in 1999, proved unsuccessful. However, the spiky Canadian still enjoyed his racing, and he still made his opinions known. An infamous spat with Jenson Button plagued his 2003 season; nonetheless, Villeneuve still experienced some beautiful days in F1's midfield. Multiple podiums in 2001 with BAR and some plucky drives with Sauber demonstrated his raw talent.
The enigmatic, charismatic, often indignant racer had many faults. But, no one should ever discount his knack for driving a racing car very quickly. Villeneuve put Canada on the map in Indycar and placed his family name on top in F1. That is some legacy.
Takuma Sato
Tokyo City's pocket rocket Takuma Sato is a cult figure among F1 fans who's enjoyed serious success in Indycar. Sato arrived in F1 as a Honda backed driver. So when Jordan signed a deal with Honda for a works engine supply, naturally, Honda wanted Sato in one car.
A crash-filled first season in 2002 finished on a happy note as Sato surged at Suzuka to a points finish which sealed a fourth-place finish in the constructor's championship for Jordan. After Honda took more interest in the BAR team, Sato joined the Brackley based team in 2003 as a test driver.
After Jacques Villeneuve got ousted, Sato replaced him. The Japanese Anthony Davidson helped BAR to a second-place finish in the championship, with his best result at Indianapolis, where he finished on the podium. However, Sato fell foul of the driver merry-go-round as the experienced Rubens Barrichello replaced him in 2006. Honda bought the dormant Arrows chassis' of 2002 and created a new team for Sato to placate their unhappy Japanese fans.
The Super Aguri team was Honda's B team, and while they were woefully underfunded, Sato dragged them to a memorable points finish at the Canadian GP in 2007. Sato even passed Fernando Alonso's McLaren in that race.
After the spirited team went bust, Sato and Honda teamed up to race in the Indycar series. Sato has forged a reputation as being one of Indycar's most consistent performers. He races hard, consistently punches above his weight and is a formidable driver in wheel-to-wheel combat.
The highlight of Sato's stateside stint is the two victories at the Indianapolis 500. He is the only Japanese driver who won the race; Sato is also in that exclusive club as a multiple-times winner. Sato is an Indycar cult hero; he was already a hero in Japan after his F1 exploits; now, he is their greatest racing driver.
Nigel Mansell
Nigel Mansell is the only man to have simultaneously held the Indycar championship and the F1 World Championship. After falling out with Frank Williams, Mansell moved to America to replace F1-bound Michael Andretti. The 1992 champion instantly felt at ease with the raw savagery of the CART Indycar's. Mansell took pole and the race-win on his Indycar debut.
The Brit was also running for victory at the '500 until a bad restart behind the pace car cost him. Later on, in that season, Mansell suffered a massive crash that injured his back. He returned earlier than expected and preceded to dominate the 1993 season. Such was the ease of his championship win; Mansell was still technically the F1 champion while getting crowned as the Indycar champion.
Although Mansell felt worn out with the American lifestyle in 1994, he returned to Williams to replace a young David Coulthard at the end of the 1994 season. Despite his stint being short, Mansell rocked Indycar with his dominance, determination and a well-groomed moustache.
Emerson Fittipaldi
Emerson Fittipaldi was McLaren's first-ever world champion. The Brazilian driver is a bonafide F1 legend. After retiring from F1 in 1980, Fittipaldi ended his four-year hiatus by joining the CART Championship. It took him time to assimilate after spending so much time away from racing. By 1989, Fittipaldi was back to his best. He crushed the opposition as he romped home to the championship. On his way to the title, Fittipaldi took an infamous win at the Indianapolis 500.
Fittipaldi and Al Unser JR duelled in the last two laps for the race victory. With traffic in front of them, the pair collided on the penultimate lap. Unser JR ended up in the wall while Fittipaldi held on for the victory. It was the Brazilian's first triumph at the Brickyard. In 1990, Fittipaldi signed for America's Enzo Ferrari; Roger Penske.
The Penske and Fittipaldi combination developed into a winning one as Fittipaldi won at least one race in his six years with Team Penske. The highlight was the 1992 Indianapolis 500. Fittipaldi beat Nigel Mansell and Arie Luyendyk to the victory.
Fittipaldi had the chance to drink milk in victory lane for the second time. Unfortunately, Fittipaldi got sponsored by an Orange Grove in 1992; he declined the milk and drank orange juice. The move did not go down well. Not that Fittipaldi cared, the verbose Brazilian took no prisoners on and off track.